TOG's mission is to provide its members and friends with a safe and welcoming space where everyone can celebrate their passion in gaming, anime, cosplay, and cross-playing. Driven by the desire to be the go-to group to meet new friends and socialize with like-minded people, TOG is proud to host many events that both support our members' needs as well as the needs of local businesses that are pivotal in supporting our events in the Greater Toronto Area.
Contact Information
Areas of Interest
Video Games
Board Games
D & D
Anime
Cosplay
Youth Drop-in
Recurring Activities
Board Gaymes Night (Bi-Weekly, Tuesdays) – Welcome to Toronto Gaymers Bi-Weekly Board Gaymers night! Free and drop-in style, this event is about meeting new and old friends for board games. We frequently add to the collection and volunteers can teach some games. Glad Day BookShop (499 Church Street)
Queer Gaymes Night (Monthly, Third Friday) – Toronto Gaymers and BoardAgain Games partner up for QUEER GAYMES NIGHT. This event is a great way to learn some new games and to meet new friends! Our amazing friends from BoardAgain Games can teach you some new games that you may have always wanted to play. So this is your chance to learn games like Ticket to Ride, Dominion, Arctic Scavengers, and many more. Death In Venice Gelato Company (536 queen street west)
 LGBTQ+ Board Games Extravaganza (Monthly, third or fourth Saturday) – One of our biggest events that is in a full accessible space with gender neutral washrooms, amazing food options and large library of games to choose from. We have volunteers to help teach games and it is an event that strives to be inclusive as possible. (Centre for Social Innovation – CSI Annex, Ground Floor 720 Bathurst St)
 Toronto Gaymers – D&D Adventures (Bi-Weekly, Mondays) – WELCOME new and returning Champions, to another random, exciting adventure of Dungeons and Dragons with Toronto Gaymers! This is good event for beginners and others looking to meet new people and go on adventures. We do 5th edition and earlier ones. (27 Wellesley St E)
Youth Event (Monthly, Second Saturday) – GAYMER PARTY! Drop-in event for youth (12-18) exploring their sexuality and/or gender, or identify as LGBTQ+. There will be board games and video games. As well as food will be available. Glad Day BookShop (499 Church Street)
 Casual Gaymer (Monthly, Last Wednesday) – Casual Gay Wednesday is your hump day night out! Come join us and your fellow Gaymers and Friends for a night of gaming on the big screen. Power Up Game Bar (38 Wellington St. East)
 Planned Conventions Attendance:

Anime Shogatsu (Jan)
Nerd Market (March)
Breakout Con (March)
PAX East (April)
Anime North (May)
Toronto Pride – Tentative (June)
ConBravo – Tentative (July)
Fan Expo – Tentative (Aug/Sept)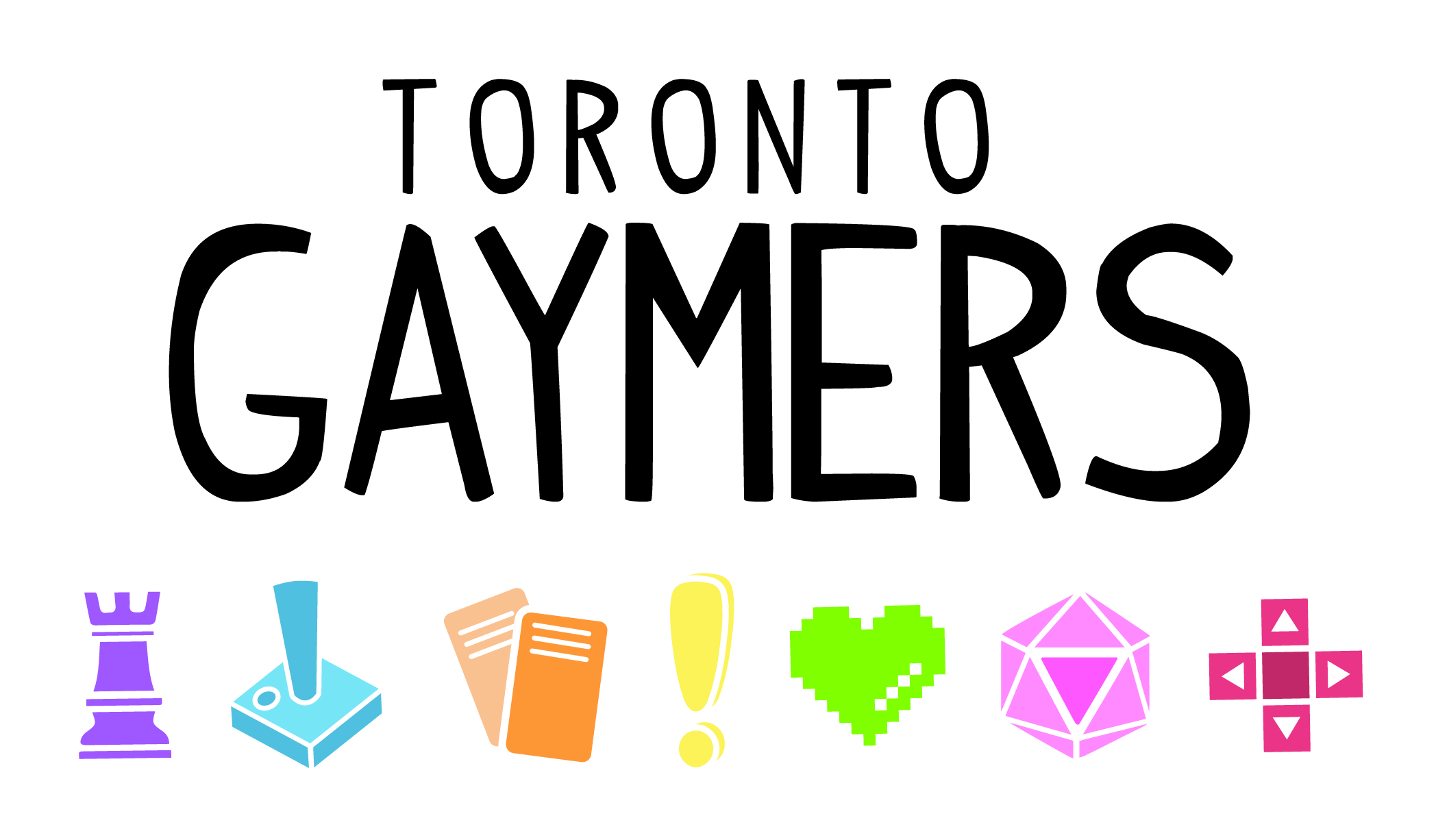 Standard Disclaimer:
Unless otherwise noted, these are independently managed organizations.
Tabletop Gaymers Inc is neither responsible for nor monitors these organizations.