Tabletop Gaymers Inc. is a nonprofit organization whose mission is promoting diversity, equity, and inclusion by championing the visibility and recognition of the LGBTQIA+ community through tabletop gaming.
(LGBTQIA+ lesbian, gay, bisexual, transgender, queer/questioning, intersex, asexual, and others)
TDOV is March 31st and all this month Tabletop Gaymer is collecting stories from our community to share on the 31st. If you would like to be part of this effort, click the button on the left and fill out the survey. Be aware, this information has a chance of being posted to our social media, so make informed choices about what you choose to share!
We have a huge presence at Gen Con Indy this year! We have an entire room in ICC 120 that we're calling the "Gayme Room" with 90+ events going on, including a Gaymer Gathering every night! We also have a table on Community Row with new swag. Come join us!
We are making final preparations for our visit to Columbus Ohio for the Origins Game Fair. Stop by our booth (1034) in the main exhibit hall to pick up your gaymer, ally, and pronoun badge ribbons and check out the other swag we have available as donor rewards. If you have some time to spare, please consider volunteering a couple of hours at our booth.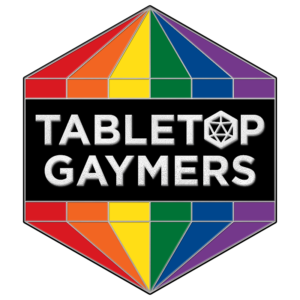 Tabletop Gaymers has a presence at a number of other conventions and events! Come find our booth!
The first batch of our new Pride Flag Badge Ribbons are here! They will be available at all our future events including PaizoCon next week, Origins next month, Gen Con in August, and more; but if you can't wait, you can pick them up through our new Donor Rewards Catalog.
Why wait until the next convention to connect with your friends? Join our 100% COVID-Free Discord server and connect with connect with fellow gaymers and allies. With over 400 members, there is always someone on looking to chat. Join our Discord Server and get involved!
We occasionally send out short emails about gaymer events, badge ribbons, etc. If you're interested in being on on our Mail Chimp mailing list, feel free to add yourself.
Tabletop Gaymers distributes GAYMER and ALLY badge ribbons, for free, at conventions like Origins and Gen Con. Their purpose is to help build the community of gaymers and allies by self-identification. The idea is that the visibility helps enhance the environment of the convention, promotes interaction and community building, networking, and plain old fun. As always, the ribbons free for participants. We also have a lot of other Swag and Promotional Material that we give out at our events and as donor rewards.
If you would like a SPONSOR ribbon, please donate.